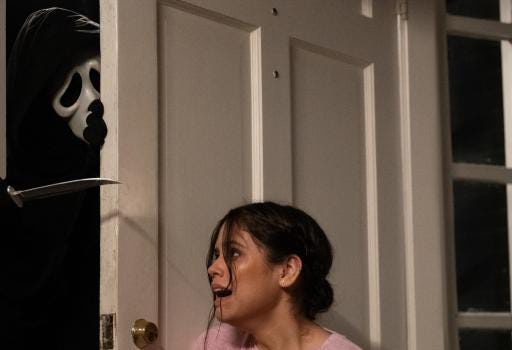 Jan 12, 2022 • 4M
THB #67: Review - Scream
Simply going to see Scream was a weirdly controversial choice. The LA Times' Jen Yamato did a piece on Monday about in-person critics' screenings and whether the studios should be making screeners available during COVID and on an ongoing basis for disabled critics.
But as I got deeper and deeper down the well on a newsletter I was writing (likely publishing tomorrow) and the day went along, I decided to go. After all, the trailer for Scream was one of the only trailers in recent months that I saw audiences really react to in theaters. It got me too.
I am going to walk very gingerly into this review, because audiences - even if you wait for streaming - deserve to have the surprises of the film remain surprises.
If you have seen any marketing for the movie, you know that some of the OG cast is back and that there is a new generation of kids in the movie… and that, somehow, it is all connected.
---
---
Casting is a huge part of the Scream experience. The original group was kind of amazing. Drew Barrymore was the Janet Leigh of the crew. Campbell, Cox, and Arquette were on the rise. Skeet Ulrich, Matthew Lillard, Jamie Kennedy, and Rose McGowan were early in prolific careers.
The only young actors I already knew (and liked) going into this film were Mikey Madison, Dylan Minnette, and Jack Quaid. The other newcomers: Melissa Barrera, Jena Ortega, Jasmin Savoy Brown, Mason Gooding, and Sonia Ammar all made a strong impression.
(Ironically, the least well-liked Scream, #4, had the deepest cast of stars on the rise. Lucy Hale, Anna Paquin, Kristen Bell, Britt Robertson, Hayden Panettiere, Alison Brie, and Emma Roberts. Remarkable.)
Will this group be the next group that will be around for the next 25 years? We'll see. I'd bet on at least 3 of them.
The creative core for this Scream is the trio that made Ready or Not together. Co-directors Matt Bettinelli-Olpin and Tyler Gillett and screenwriter Guy Busick. I don't know how veteran writer James Vanderbilt fits into the mix, but as a group, they deliver a self-referencing, complex, funny, clever variation of the reboot. In fact, they coin some new terms for it in the movie… which I will leave you to experience.
Like Spider-Man: No Way Home and the current trilogy of Halloween films from the David Gordon Green group, the new Scream is very much aware of its roots and the history of the genre. And I would say that the success level is right in between those two films.
---
---
It's really a pleasure to be taken on this ride by these filmmakers. There are jokes that work on all kinds of different levels. There are points of reference that are really overt. Some are somewhat hidden. There are legit surprises. And intentional abuses of your movie loving expectations.
I saw at least the first 2 movies - I think the first 3 - in movie theaters when they were released. But my memory of details is dim. I still enjoyed it. And I think I got most of the in-jokes.
There were a few dips. A few moments where the "don't you know what happens in these movies" moments didn't have enough of a twist to make it more interesting than just it was.
But overall, it was a lot of fun. A lot of new talent that was fun to watch. Some modern ideas embedded in the film without calling attention to themselves, especially at the end.
I would recomend the film to anyone who liked the first movie. And if you haven't seen the new generation of horror, plan on committing some titles to memory that you will want to see afterwards.
Until tomorrow…